Easter Grange
Culross, Fife (formerly Perth), Scotland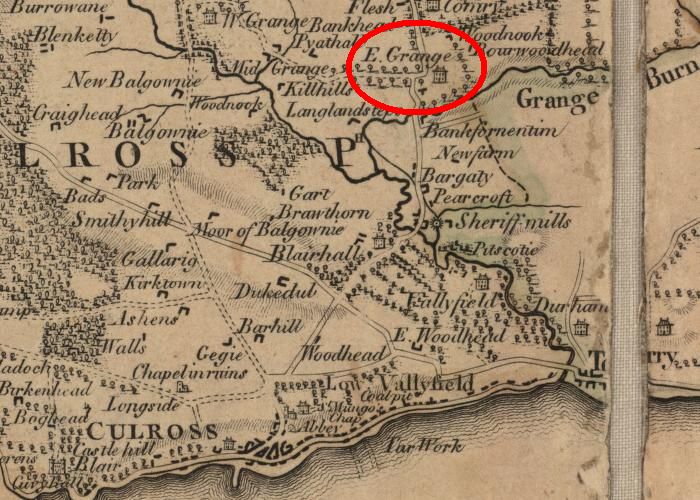 From The counties of Perth and Clackmannan by James Stobie: London: 1783. Source: National Library of Scotland
---
The Place-Names of Fife
by Simon Taylor with Gilbert Markus
GRANGE, Culross Settlement; National Grid Ref NS998890; (assumed location within 35 metres), South West Facing.

Grange Estir et Westir et Myddill 1540 x 1543 RMS iii no. 2869 [see CUS Introduction]
Eister Grange 1586 RMS v no. 1140 [with a pendicle called the Devilla (lie Devolye)]
Middil-grange 1586 RMS v no. 1134
Eister, Wester et Middill Grangeis 1589 RMS v no. 1675
Eistir Grange 1609 RMS vii no. 9
Middill Grange 1609 RMS vii no. 9
Westir Grange 1609 RMS vii no. 9
(James Aitkine of) Midle Graing 1642 RMS ix no. 1221
Midlegrainge 1656 RMS x no. 486
Easter Grange 1664 RMS xi no. 889
Er Grange 1753 Roy sheet 16,1
Middle Grange 1753 Roy sheet 16,1
Wr Grange 1753 Roy sheet 16,1
E. Grange 1783 Stobie
Mid Grange 1783 Stobie
W. Grange 1783 Stobie

Scots grange
'Monastic farm'. Grange was a large estate divided into West(er), Middle and Easter by the mid-sixteenth century. The NGR is of OS Pathf. Mains of Grange.
OS Explorer 367 (2001) shows 'East Grange' twice, once in place of OS Pathf. Mains of Grange (NS998890) and once at OS Pathf. East Grange (NT002890).
Sources:
RMS Registrum Magni Sigilli Regum Scottorum ed. J.M. Thomson & others, Edinburgh 1882-1914.
Roy 1753 The Military Survey of Scotland, supervised by General William Roy, the 'fair copy', BM. Ref. K. Top XLVIII 25-1b, c; photocopies available in National Library of Scotland (NLS)Edinburgh University, Royal Scottish Geographical Society.
Stobie 1783
The Place-Names of Fife
Volume One. West Fife between Leven And Forth
Simon Taylor with Gilbert Markus.
Shaun Tyas, Donington, 2006
p 245
Reproduced with permission of the author. Links to maps by permission of National Library of Scotland.
---
The Pont Family: a detailed report
Diane Baptie. National Library of Scotland
The Mastertons of Easter Grange
Easter Grange lies less than a mile to the north of Shiresmill. It was part of the property of Grange which was divided into Wester, Middle and Easter Grange. Wester and Middle Grange were occupied by others in the rental of 1561, while Easter Grange was in the hands of Adam Masterton. In the 1630 rental, it was still owned by the family, along with a pendicle of Dively (Devilla). In 1575, when the marriage contract was drawn up between Adam Blacader and Helen Pont, Adam Masterton of Easter Grange was a witness. He also witnessed the sasine to Mr Zachary Pont in 1584 and to a bond made by him and his wife in 1592.22 By 1594, his son, John Masterton, had inherited the property and the family appear to have continued there throughout the 17th century.23.
22 RD1/84, f.26
23 Index to Dunblane Commissary Court - Scottish Record Society
---
1580-93
1140. Apud Halyrudhous. 15 December 1586.
REX confirmavit cartam factam per quondam Wil. commendatarium sive usufructuarium de Culros, Jo. abbatem de C., et ejusdem conventum, — [qua, pro 400 marc, persolutis, ad feudifirmam dimiserunt ADAMO MAISTERTOUN, et AGNETI BOYD ejus sponse, — terras de Eister Grange, cum pendiculo nuncupato lie Devolye, cum libero introitu ad communem myram et communem pasturam mori, in dominio de Culros, vic. Perth : — TENEND. dietis Ad. et Ag. et heredibus inter eos procreatis, quibus deficientibus, heredibus propinquioribus dicti Ad. et assignatis, de dicto monast. : — REDDEND. 13 marcas, cum 16 caponibus, cum uno lie weddir-schip conventui ad eorum pittecommonis, tanquam firmam antiquam, et 3 marc. 6 sol. 8 den. augmentationis (de quibus 13 sol. 4 den. conventui ad eorum pittecommonis applicarentur) ; cum areagiis &c. (cum aliis clausulis ut in carta 1106): — TEST. Wil. Colvile, Jo. Broun, Rob. Bennat, D. Jo. Broun capellano : — cum sigillo &c. (ut in carta 1126): — Apud dictum monast., 30 Jan. 1548]: — TEST, ut in aliis cartiis &c.
xxxvi. 242.
The Register of the Great Seal of Scotland
John Maitland Thomson (eds)
AD 1580-93
HM General Register House
p. 378
Edinburgh, 1888
---
Culross Abbey and its Charters
CULROSS ABBEY AND ITS CHARTERS, WITH NOTES ON A FIFTEENTH-CENTURY TRANSUMPT. By WILLIAM DOUGLAS, F.S.A.SCOT.
Charge of the Temporality of Kirklands. (relative to Annexation of Benefices to the Crown in the year 1587).
The Act of Parliament of 26th July 1587 for the Annexatioun of the Temporalities of the Benefices to the Crown, ruled that all the revenue of the Church be annexed to the Crown, on the ground that the Crown had been greatly hurt and impoverished in past times by the gift of the greatest part of its proper patrimony to the Abbeys, Monasteries and Clergy, and that the necessity for such disposition had ceased.
PERTHSHIRE: ABBEY OF CULROSS.
29. Feu-farm of lands of Easter Grange and pendicles thereof called Devoly, set in feu to Adam Maistertoun . . . . £11 0 0
capons 16
wedder sheep 1
50. Feu-duty of lands of Bad, set in feu to Alexander Maistertoun: £5 6 8
poultry, 16
kids, 2 (or 6/8 apiece)
augmentation £1 6 8
51. Feu-duty of great and small coal in the bounds of lands of Bad, set in feu to Ronald Maistertoun, fiar of Bad: £6 13 4
---
Register of the Great Seal of Scotland
1660-68
CHARTER granting to MR ROBERT PRESTOUN of that Ilk, and his heirs and successors whomsoever, - the lands of Easter Grange with the pendicles thereof, and that pendicle called Dove Valley, with free entry and exit from the common moor, and manor-place, buildings, coals, coal-heuchs, glebes, woods, fishings, and all pertinents, and teind sheaves and other teinds thereof; also 16 capons and one wedder sheepe from the said lands: in the regality of Culrosse and sheriffdom of Perth; which lands formerly belonged to John Mastertoun of Easter Grange, Christina Murray, his wife, and Adam, their eldest lawful son, and were apprised from them at the instance of the said Robert Prestoun, at Edinburgh, 15th December 1665, for payment of certain sums mentioned in the decreet, extending to the sum of £12,330 18s 10d of principal, and £616 10s 10d of sheriff's fee, with precept of sasine. Rendering thereof yearly the above the duties and services used and wont; one sasine to be sufficient: subject to the legal reversion:- Witnesses' names not engrossed. P.P. ix.10
The Register of the Great Seal of Scotland
John Horne Stevenson (ed)
AD 1660-68
HM General Register House
Edinburgh, 1914
---
National Archives of Scotland
Signature of the lands of Easter Grange granted to Charles Masterton 26 May 1708.