Pitreavie
Fife, Scotland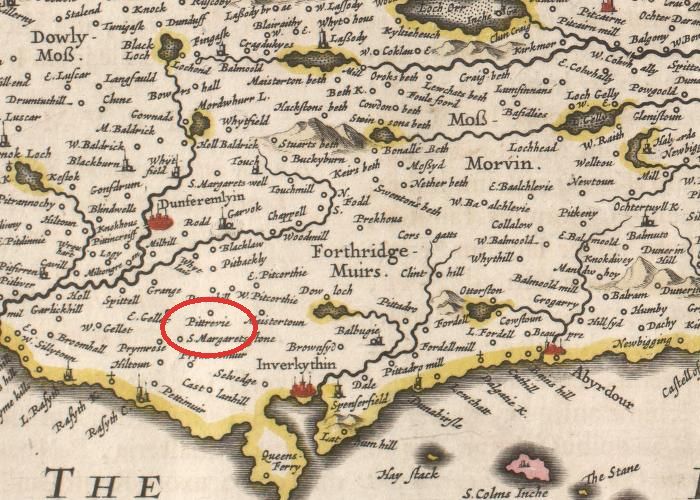 From Fifae Vicecomitatus. The Sherifdome of Fyfe, by Joan Blaeu after James Gordon: Amsterdam: Blaeu 1654. Source: National Library of Scotland
---
The lands of Pitreavie lie adjacent to the west of the lands of Masterton. The Charter referred to in RRS introduces John Masterton as the tenant before 1358. This John does not appear to have been found by previous genealogists (Douglas, Stodart or Paton) and could provide a new link in the lineage.
Taylor and Markus provide a possible interpretation of Pitadro, (shown as Pittadro in the Blaeu (Gordon) map above), the contiguous lands to the east of Masterton, as 'Estate of the strangers or aliens(s)' or 'estate of the cementers or joiners'. They point out the possible link with the estate of Masterton being named after the cementarius or mason Master Ailric, who held it some time before 1153.
It is possible, therefore, that the lands, formerly known as Ledmacduuegil, that were held by Master Aelric the master-mason before 1153, encompassed all of the estates later known as Pitreavie, Masterton and Pitadro.
---
191A: Charter to William Grimslaw of the land of Pitreavie, resigned by John Mastertown.
Edinburgh, 28 June a.r.29 [1358].
Dauid Dei gracia rex Scottorum omnibus probis hominibus tocius terre sue clericis et laicis salutem. Sciatis nos dedisse concessisse et hac presenti carta nostra confirmasse dilecto et fideli nostro Willelmo de Grymyslaw illam terram de Pettrany cum pertinenciis quam Johannes de Maystyrtona nobis coram magnatibus regni nostri per fustum et baculum sursum reddidit et resignauit ac totum ius et clameum quod in dicta terra habuit vel habere potuit mera et spontanea voluntate sua pro se et heredibus suis quietum clamauit in perpetuum. Tenendam et habendam eidem Willelmo et heredibus suis de nobis et heredibus nostris in feodo et hereditate per omnes rectas metas et diuisas suas cum omnibus libertatibus comoditatibus aysiamentis et iustus pertinenciis suis quibuscumque ad dictam terram spectantibus seu quoquo modo iuste spectare valentibus in futurum adeo libere et quiete plenarie integre et honorifice sicut dictus Johannes dictam terram cum pertinenciis de nobis ante resignacionem suam nobis exinde factam liberius quietius plenius et honoroficencius tenuit seu possedit. Faciendo nobis et heredibus nostris ipse Willelmus et heredes sui seruicium de predicta terra debitum et consuetum. In cuius rei testimonium presenti carte nostre sigillum nostrum precepimus apponi.
Testibus venerabilibus in Christo patribus Willelmo episcopo Sancti Andree et Patricio episcopo Brechynensi cancellario nostro, Roberto senescallo Scocie comite de Strathern nepote nostro, Patricio comite Marchie et Moravie, Willelmo de Ramesay comite de Fyf, Dauid de Anandia et Johanne de Prestona, militibus.
Apud Edynburgh, vicesimo octauo die Junii anno regni nostri vicesimo nono.
Source:
NLS, Hutton transcripts, MS Adv. 20.3.8, fo 2r-2v. At the foot of the transcript there is the note: In dorso. (in a contemporary hand) Confirmacio de petrani. (In a later hand ) Charter de petrany. Chart....b....yd.46. From the original charter in the Gen. Reg. House. The seal is lost.
Regesta Regum Scottorum
Volume VI: Acts of David II
Bruce Webster (ed)
Edinburgh University Press, Edinburgh, 1982
p 528.
---
The Place-Names of Fife
by Simon Taylor with Gilbert Markus
PITREAVIE [Dunfermline parish], Settlement; National Grid Ref NT117848 (accurate); OS Pathfinder 394; 40m elevation; South West Facing.

(William of) Petrauin c.1240 Dunf. Reg. no. 176
Pieres de Petrauy 1296 Inst. Pub. p. 124
Patrauy 1359 ER i. 560
Petrevy 1329 x 1338 RMS i app. 2 no. 944 B [17th c. index; Andrew Murray (?the Guardian, died 1338)]
Petcruvy 1329 x 1338 RMS i app. 2 no. 948 A [16th c. index; as ibid. no. 944; obviously an error for *Pettruvy or the like; this same error appears to be made again ibid. nos. 1373 A and 1407 A]
Petravy 1428 RMS ii no. 115 [Sir David Stewart of Rosyth]
Pettrave 1513 RMS ii no. 3840
Pittrevy 1642 Gordon MS Fife
Pineues 1654 Blaeu (Pont) West Fife
Pittrevie 1654 Blaeu (Gordon) Fife
Pitreevie 1753 Roy sheet 17, 5
Pitrivie 1775 Ainslie/Fife
Pitreavie 1828 SGF

Scottish Gaelic pett + possible Scottish Gaelic riabhach or possible Scottish Gaelic riabh + -in
'Estate at the striped place' There is no doubt that the ending is from the early loc. suffix -in, but the specific element is a problem. It might represent G riabh 'stripe' (early Irish riab), with early stress on the second component of the diphthong, a feature found also in modern Sutherland Gaelic.62 It would seem to share the same element as Drumrack (Crail Parish Drumrauach 1233 Balm. Lib. no. 41), as well as Kilravock, Nairnshire.
Notes:
* before a name signifies a reconsructed or hypothetical word.
Sources:
Dunf. Reg. Registrum de Dunfermelyn, Bannatyne Club 1842.
Inst. Pub. Instrumenta Publica sive Processus super Fidelitatibus et Homagiis Scotorum Domino Regi Angliae Factis 1291-96, Bannatyne Club 1834 [Ragman Roll].
ER The Exchequer Rolls of Scotland, ed. J. Stuart & others 1878-1908 (Edinburgh).
RMS Registrum Magni Sigilli Regum Scottorum ed. J.M. Thomson & others, Edinburgh 1882-1914.
Gordon MS Fife Fyfe Shire MDCXLII - Fife Provincia Noviter Delineata, James Gordon, 1642, NLS (National Library of Scotland). Adv.MS.70.2.10.
Blaeu (Pont) West Fife 'Fifae Pars Occidentalis, The West Part of Fife', Timothy Pont's map of West Fife compiled in the 1590's with minor additions made by Robert or James Gordon, printed in Blaeu 1654.
Blaeu (Gordon) Fife 'Fifae Vicecomitatus, The Sherifdome of Fyfe', James Gordon's map of Fife, completed in 1645, and printed in Blaeu 1654.
Roy 1753 The Military Survey of Scotland, supervised by General William Roy, the 'fair copy', BM. Ref. K. Top XLVIII 25-1b, c; photocopies available in National Library of Scotland (NLS)Edinburgh University, Royal Scottish Geographical Society.
Ainslie/Fife Map of the Counties of Fife and Kinross compiled and engraved by John Ainslie 1775.
SGF Map Counties of Fife and Kinross, surveyed in the years 1826 and 1827, Sharp, Greenwood and Fowler, printed 1828, reprinted by Wychwood Editions, 1992.
The Place-Names of Fife
Volume One. West Fife between Leven And Forth
Simon Taylor with Gilbert Markus.
Shaun Tyas, Donington, 2006
pp 355-6
Reproduced with permission of the author. Links to maps by permission of National Library of Scotland.