Peter Masterton (1841-1891)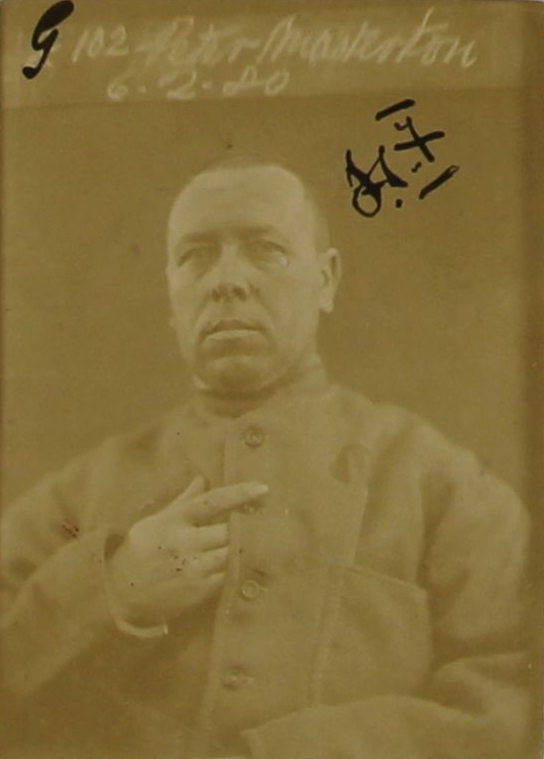 Watchmaker, Convicted of Theft
Peter Masterton was a watchmaker in Perth. On 19th January 1880 he was convicted in the High Court of Justiciary, Edinburgh, of pawning watches left for repair and sentenced to five years penal servitude. Within a year his wife Isabella died a pauper at the age of 38, leaving five children who were brought up by their grandparents. In the 1881 Census he was on a prison ship in Chatham, Kent, over 500 miles from his family. He died in 1891 in Edinburgh at the age of 49. As the newspaper clippings reveal, he seemed to live life close to the edge, finally blighted by the heavy price he paid for pawning watches entrusted to him to realise a little ready cash to help support his family of five - or were his motives more venal? He was 5ft 4 in tall, stoutish, with light brown hair and blue eyes. When convicted he had a cut from base of thumb across wrist and a scar on the centre of his breast, the marks from his encounter with George Marton of Brechin in 1872. He had flat feet and was slightly bow-legged. His prison record shows that he was in Edinburgh from 14th January 1880 (teasing oakum), Pentonville Prison, London from 6th February 1880 (knitter), Millbank Prison from 28th July 1880, then Chatham (labourer) from 1st December 1880. He was licensed on 22nd March 1883, destination Edinburgh.
Genealogy
Peter Masterton was the third child and first son of John Masterton and Isabella Kerr. They belong to the large group of Mastertons from Forfar. Peter Masterton married Isabella Rutherford in 1865. In the clippings below, the three year old who narrowly escaped death under the wheels of a cart in 1872, would be Jane Laing Masterton, born in 1869, who lived to the age of 81. A fuller genealogy of the extended family of Peter Masterton can be found at this link.
---
The Glasgow Herald
FRIOCKHEIM. - Serious Case of Stabbing.
A serious case of the above nature occurred at the village of Friockheim on Thursday night, the circumstances of which, so far as we have been able to learn, are the following: - Mr Peter Masterton, watchmaker, Friockheim, had been in the Railway Inn there about nine o'clock, when a machine drove up to the door, and several young men entered the room in which Mr Masterton was seated. Mr Masterton took out a watch which he offered to sell to one of the company named George Martin, a painter in Brechin. Martin offered ten shillings, which Masterton accepted, and gave him the watch, at the same time asking the money. This not having been forthcoming, a quarrel ensued, when Martin said that whoever took the watch from him would "get the knife," which at the time he held in his other hand. Mr Masterton, it is said, attempted to take the watch, and Martin, it seems, had fulfilled his promise, for Mr Masterton was stabbed in the left breast by Martin, and also had one of his thumbs cut open. Martin was soon after apprehended, and the watch and the knife were found on his person. He was conveyed to Forfar, and after having been examined by the Sheriff, was committed to prison on Friday night. Though the wounds are not dangerous, the doctor states that Mr Masterton has had a narrow escape with his life. - Dundee Advertiser. .
Glasgow Herald
Monday, 26th February 1872.
---
The Dundee Courier
ALYTH. - CHILD RUN OVER-NARROW ESCAPE.- About two o'clock yesterday afternoon while Mr Lawson, carrier, Parkfoot, Glenisla, was driving his horse yoked in a laden cart up Toutie Street and almost at the Cross, a young girl of about two years, the daughter of Mr Peter Masterton, watchmaker, late of Friockheim, who is setting up business here, rushed on the street and in front of the horse, which knocked her down and was stepping over her, when, at the same moment, a young man sprang forward and seized the child, but unfortunately was struck on the head by the horse which was still in motion. He then let go his hold, and, fearing that the wheel was to pass over him, he escaped, while the infant, singularly enough, was passed over by horse and cart without being seriously hurt. A large crowd soon assembled where the accident took place.
Dundee Courier
28th May 1872.
---
The Glasgow Herald
ALYTH. - Marvellous Escape.
A marvellous excape occurred near the top of Toutie Street at a little before two o'clock on Monday afternoon. A carrier of the name of Lawson, from Glenisla, sitting on top of the front of his laden cart, was driving up the steep street, when a child of about three years made a run across, immediately in front of the horse's feet. A man who was passing seized the child, but in doing so had not the presence of mind to spring to the side in time to escape from the wheel of the cart, which was still on the move onwards. When the wheel was right upon the man, he let go the child amongst the horse's feet, while he got out of the way himself. Meanwhile the horse passed over the infant, and with its hind feet almost kicked beneath the wheel; yet, strange to state, she was not seriously injured. She is the daughter of Mr Masterton, watchmaker, late of Friockheim.
Glasgow Herald
29th May 1872.
---
The Dundee Courier
BIRTHS - Masterton - At Toutie Street, Alyth on the 21st inst., the wife of Mr Thomas [sic] Masterton, watch maker, of a daughter.
Dundee Courier
24th May 1873
---
The Scotsman
THEFT BY A WATCHMAKER
Peter Masterton, from the prison of Perth, pleaded guilty to ten different charges of theft, the articles specified in the libel being gold and silver watches received by him for repair, and the dates of the offences extending from September 1878 to October 1879. Mr Neil J Kennedy, advocate, stated on behalf of the prisoner, that he was a watchmaker in Perth, and had made use of the watches entrusted to him by various customers for repair, not so much in the way of direct appropriation, as of using them for the purpose of raising money by pawning them, with the intention of afterwards redeeming them; the distress which had afflicted the smaller class of tradesmen having brought him into difficulties. There was no previous conviction against him, and he had hitherto borne a good character. Sentence was delayed. In subsequently pronouncing sentence, his Lordship said he had considered the case and the prisoner's previous character, to see if there were any grounds on which he could mitigate the penalty, and he was sorry to say he saw none, and feared he was only doing justice in pronouncing sentence of five year's penal servitude. The prisoner was removed in a state of great agitation.
The Scotsman
20th January 1880

---
Not Attributed
A WATCHMAKER CHARGED WITH THEFT
Peter Masterton pleaded guilty to ten different charges of theft, the articles libelled being gold and silver watches, which he had received for repair, and which he had pawned. Mr KENNEDY, advocate, explained that the prisoner, a watchmaker by trade, made use of the watches entrusted to him by various customers, not so much by way of making appropriation as by using them to obtain a fund by pawning them. He had meant to redeem these watches, but the distress which had so deeply affected the small class of tradesmen had sunk him deeper and deeper in difficulties. He had hitherto borne a good character and there were no previous convictions against him.
In pronouncing sentence, Lord MONCREIFF said that, after looking at the prisoner's previous character, he was sorry to say he had no grounds for mitigating the punishment. The accused had pleaded guilty to ten acts of theft of watches, which were entrusted to his custody for the purpose of being regulated and returned to their owners. He therefore only did justice by pronouncing sentence of five year's penal servitude.
Not attributed, pasted to Penal Record 31/80, National Archives
Not dated