Dales
Inverkeithing, Fife, Scotland
---
Note 2
(to Paton's Genealogy - 1893)
There is a farm of Dales in the parish of Inverkeithing, Fife, near Masterton, probably the Dallis of which William of Masterton was laird.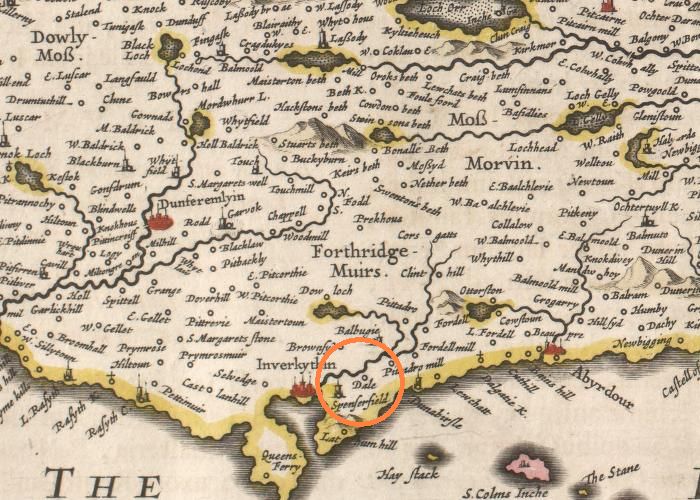 From Fifae Vicecomitatus. The Sherifdome of Fyfe, by Joan Blaeu after James Gordon: Amsterdam: Blaeu 1654. Source: National Library of Scotland
A charter under the Great Seal (Reg. Mag. Sig., 1424-1513, p.765, No. 3558), in favour of John Mowbray of Barnbougle, Knt., dated 27th March 1511, and another to Robert Mowbray (p. 432, No. 1934), dated 10th March 1538-39, include 'Caslane le Dalis' in the barony of Inverkeithing, Fife. Therefore, if these are the lands, they had passed from the Mastertons before 1511. I have failed to trace the earlier charters, which might supply the links between William de Mast'ton Dominus de Dalis and Alexander Maistertoun of Bad. David Mowbray was infeft in the Barony of Inverkeithing in 1467. See Fraser's Memorials of the Earls of Haddington, vol. ii, p.237.
---
The Place-Names of Fife
by Simon Taylor with Gilbert Markus
THE DALES [Inverkeithing parish] Settlement; National Grid Ref NT135844; (accurate); OS Pathfinder Sheet 394; Elevation 25 metres; South Facing

the Dalys 1508 RSS i no. 1638 ['landis of the Dalys and Spensarhous (Spencerfield)' in barony of Inverkeithing]
le Dalis 1511 RMS ii no. 3558
Dale 1654 Blaeu (Gordon) Fife
Deals 1753 Roy Sheet 17, 5
Dales 1828 SGF
Deals 1856 OS 6 inch 1st edn.

Scots dale 'The divisions of land'