Henry John Watson Masterton
(1873-1955)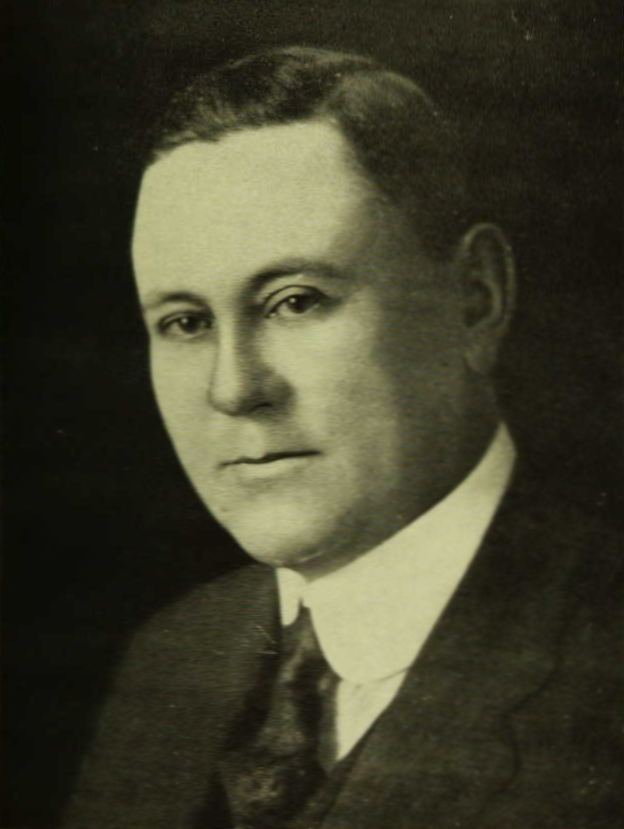 Photo courtesy of Lianna Kirk from 'Who's Who in Australia'
Managing Director, Shipping Company
Henry John Watson Masterton succeeded his uncle, James Paterson, as managing director of James Paterson & Co., a shipping company based in Melbourne, Australia. He owned a number of race-horses, including 'King of the Sea', winner of the St. Kilda Cup in 1923.
Genealogy
Henry John Watson Masterton was the fourth child and second son of William Masterton, farmer, and Christina Dunn Forbes, who had married in 1868 in Edinburgh then emigrated to New Zealand, later relocating to Australia. He was the younger brother of Bill Masterton, 'The Redbank Hermit'. This places him as part of the extensive family of Mastertons from Cramond for which details can be found at this link.
---
Who's Who in Australia
MASTERTON, Henry John Watson.
Managing Director Jas. Paterson and Co. Pty. Ltd., Steamship Owners and Coal Merchants, Coal Contractors, Tug Owners, Suppliers of Coal to Royal Mail Lines, 441 Collins St., Melbourne, Victoria. Established 1854. Born Adelaide, South Australia, 1873. Son of William and Christina Masterton, both of Scotland. Educated Brighton Grammar and Kew High Schools. Commenced his business career 1891 as a clerk with Jas. Paterson and Co.; he became a junior partner 1906; and 1909, when the firm was formed into a proprietary company, he became the managing director. Married Melita Gaston Smith, daughter of William Henry Smith, of Melbourne, July 17, 1901. Two sons and three daughters. Clubs: Athenaeum, Australian, V.R.C., V.A.T.C. and C.T.A. Recreations: Motoring, fishing, shooting and golf. Politics: Liberal. Creed: Protestant. Home address: "Rubra," Frankston, Victoria.
---
Frankston & Somerville Standard, Victoria
King of the Sea Successful
Comes Ashore At Last.
And Wins the St. Kilda Cup in Style.
When the "Sporting Globe" came out on Wednesday last, "Musket" plumped straight out for King of the Sea in the St. Kilda Cup. As the horse is owned by Mr. Henry Masterton, of "Rubra," Mornington Road, Frankston, the local interest in the race centred around the son of Sea Prince and Mernda, and few will be grudge Mr. Masterton the victory won, after the patience he has displayed and the confidence exhibited in the Sea Prince gelding after so many repeated failures.
With Nautical out, The Rover, was made a hot favorite for the St. Kilda Cup. He had the assistance of "Billy" Duncan, and, though he got away well, his finishing effort was not the best, although he ran into a place. Luteplayer, King of the Sea and Beeline were equal second favorites at 7 to 1. When it was seen that George Harrison was to replace Joe Killorn in the saddle of Mr. Masterton's horse there were many prepared to give the horse a chance to retrieve his many failures. Harrison, to my mind, is the best of jockeys now riding in Victoria, and he certainly rode a masterly race on this occasion. He kept King of' the Sea lying just behind Luteplayer, Penshurst and The Tyrant until the back was reached, when Harrison passed The Rover and drew closer to old Luteplayer, who was going great guns. On the railway side, King of the Sea caught Burke's horse, and, as they rounded into the straight, Harrison called for a final effort and the response was there, but there was no need for it, as he won as he liked by two lengths from Beeline and The Rover. Jolly Cosy, Penshurst, The Tyrant, Luteplayer and Scarlet finished in that order.
King of the Sea ran the 1 1/2 miles in 2.33 3/4, which is good, all things considered, for the record for the distance at Caulfield, held conjointly by Lucknow and Whittier, is 2.32. King of the Sea is by Sea Prince, sire of Nautical, The Rover, Stalwart, Sea King, Roonsleigh, etc., and is trained by P. K. Padfield, at Caulfield. He was sent to Sydney for the Autumn fixtures on Tuesday last. King of the Sea ran second to King's Battery a couple of weeks ago, but failed in the Northcote Handicap. During his career, King of the Sea has raced in Victoria, South Australia and New South Wales, and has won several good races. The stake value of the St. Kilda Cup was £1000.
Frankston & Somerville Standard
Victoria
Wednesday 21st March, 1923
---
ESSENDON FOOTBALLERS.
The Essendon Football Club will visit Frankston on Saturday, September 15, when they will be entertained at "Rubra," the residence of Mr. Henry Masterton, who is keenly interested in the famous club.
Frankston & Somerville Standard
Victoria
Wednesday 15th August, 1923
---
PERSONAL.
Mr. Henry Masterton, of "Rubra," Frankston, has been elected to the executive of the Mornington Racing Club, together with Dr. Greer, the popular Dromana medico. Mr. Masterton is the owner of All Sunshine, Horoscope, Bridgehead and Benefix. The latter was successful in the Warrnambool Cup last week.
Frankston & Somerville Standard
Victoria
Friday 15th May, 1925
---
The Argus, Melbourne
WEDDINGS
Masterton-Smith
At the North road Presbyterian Church Brighton yesterday morning, the wedding was quietly celebrated of Dorothy Stuart only daughter of Mrs Norman Smith of Mount Eliza, and the late Mr Norman Smith, formerly of Wynarling, Keith (S.A.), and James Henry Masterton, elder son of Mr and Mrs H Masterton, Seymour road, Elsternwick. The ceremony was performed by the Rev John Alexander.
The bride who was given awav by her uncle, Mr Campbell Smith, of Grassdale, Coleraine, wore a charming frock of cornflower blue French crepe, with two white flowers set at the square neckline Her wide-brimmed hat was of fine, deep blue straw, and she carried a bouquet of delphiniums. An antique silver necklet, the gift of the bride's grandmother, was also worn by the bride. After the ceremony the bride's mother entertained a few near relatives at luncheon at the New Alexandra East St Kilda.
The Argus
Melbourne
Wednesday, 16th December 1936
---
MARRIAGES
BARRETT-MASTERTON
The wedding of Mary Catherine (Binnie), youngest daughter of Mr. and Mrs. Henry Masterton, of Seymour road, Elsternwick, and Howard Colton, only son of Mr. and Mrs. Howard Barrett, of Melbourne, was quietly celebrated at the Presbyterian Church South Yarra, last evening. The Rev. P. L. Forster officiated.
The bride, who was unattended, was given away by her father, and wore a tapestry blue light woollen ensemble. There were white lapels on her coat. Her blue hat was trimmed with cyclamen veiling.
The best man was Mr. T. G. Waugh. The reception was held at Scott's Hotel.
The Argus
Melbourne
Friday, 20th October 1939
---
DEATHS
MASTERTON. - On May 1, at his residence, 84 Seymour road, Elsternwick. Henry John Watson, loved husband of Melita (deceased), and loved father of Melita (deceased). Tats (deceased), Jim, Eileen, Buster, and Binnie (deceased). (No flowers, by request.)
The Argus
Melbourne
Tuesday, 3rd May 1955
---
MASTERTON. - On May 1, Henry John Watson, loved granddad of Jim, John, Howard, Andrew, David, Melita, and Jennifer.
The Argus
Melbourne
Tuesday, 3rd May 1955