Robert Alexander Masterton (1862-1887)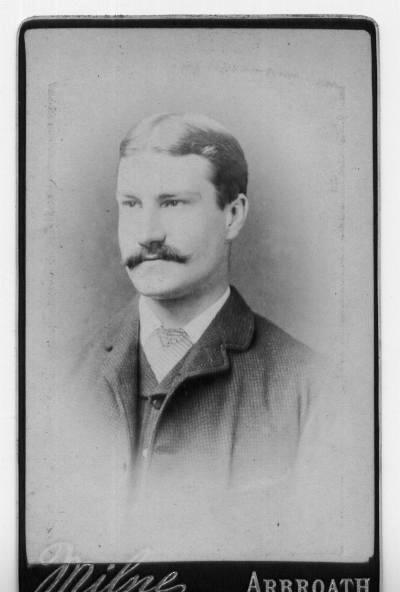 Law Student
Robert Alexander Masterton, born in Inverkeillor in Angus, was educated at the Chanonry School in Aberdeen, and was an accomplished scholar. His school results at the age of twelve appeared in the Aberdeen Journal. He later studied law but died tragically young at the age of 24 in Australia.
Genealogy
Robert Alexander Masterton was the second child and elder son of the Reverend William Masterton, free church minister, and Janet Lumsden, who had married in 1859 in Perthshire. Robert had a younger brother, James Lumsden Masterton, who became a bank manager. The family is part of the family from Culross for which fuller details can be found at this link.
---
Aberdeen Journal
CHANONRY SCHOOL (GYMNASIUM), OLD ABERDEEN.-
THE following PUPILS stood highest in their respective Classes at the close of the Term ending 19th June. Each Class is divided into Four Ranks, determined by Periodical Examinations, and Certificates of Merit are awarded to Pupils in the First and Second Ranks. The minimum of marks entitling to admission to the First Rank is Eighty per cent. of the entire value of the Examination Papers. For the Second Rank, the minimum is Sixty-five per cent.
The subjoined List contains the names of the Pupils in the First Rank:-
GREEK AND LATIN

THIRD SECTION-GREEK.
James M. Scobie
Donald M. Scobie
Peter C. Falconer
James C. Horne
George H. Gordon
Robert A. Masterton
Charles A. Jopp
....

THIRD SECTION-LATIN.
Donald M. Scobie
James M. Scobie
Leslie Durne
Peter C. Falconer
Alexander Falconer
David M. M. Milligan
James C. Horne
George H. Gordon
Robert A. Masterton
Arthur D. F. Jamieson
....

THIRD SECTION (JUNIOR DIVISION)-LATIN COMPOSITION.
Peter C. Falconer
Campbell A. Connal
James C. Horne
John S. G. Ferguson
Robert A. Masterton
Robert Moir
....

ENGLISH

THIRD SECTION-GRAMMAR.
Peter C. Falconer
Robert A. Masterton
Robert Moir
....

SCRIPTURE EXERCISES-FOURTH CLASS.
Alexander Falconer
Ranaldson G. Macdonell
Robert A. Masterton
George Frater
....

HISTORY AND GEOGRAPHY.

THIRD SECTION-HISTORY AND GEOGRAPHY.
James C. Horne
Alexander E. Spence
Peter C. Falconer
William M. Abel
David M. M. Milligan
Alexander Falconer
William L. Allardyce
James D. Turnbull
John Watt
Charles A. Jopp
Richard Murray
Robert A. Masterton
Harry Lamond
....

WRITING.

THIRD SECTION.
A. Martin Crighton
Robert Moir
William H. Forbes
Alexander J. Lamb
Harry Lamond
Henry Lyon
Charles A. Jopp
James C. Horne
Leslie Durne
William L. Allardyce
Richard Murray
James R. Fairweather
Henry A. F. Spottiswood
Campbell A. Connal
John S. G. Ferguson
Robert A. Masterton
Peter C. Falconer

FRENCH AND GERMAN.

THIRD SECTION (JUNIOR DIVISION)-FRENCH.
Robert A. Masterton
William L. Allardyce
Peter C. Falconer
John T. W. Leslie
Campbell A. Connal
ALexander E. Barker
William M. Abel
CLASSES will be RESUMED on Tuesday, 18th August.
ALEX. ANDERSON.
HENRY M. BARKER
Chanonry, Old Aberdeen,
June 19th, 1874.
Aberdeen Journal
Wednesday, 24th June, 1874