Ballingry
Fife, Scotland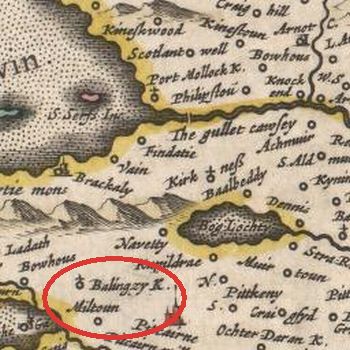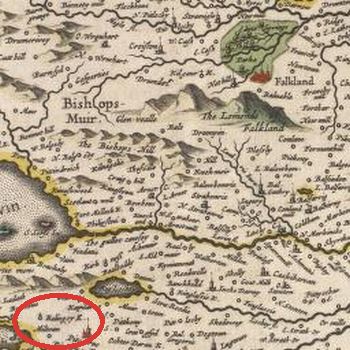 From Fifae Vicecomitatus. The Sherifdome of Fyfe, by Joan Blaeu after James Gordon: Amsterdam: Blaeu 1654. Source: National Library of Scotland
---
The Place-Names of Fife
by Simon Taylor with Gilbert Markus
BALLINGRY PARISH, Fife
Introduction
St Andrews Diocese, Fothrif Deanery. Ballingry Parish was originally part of the medieval parish of Auchterderran, and must be the chapel associated with that church mentioned c.1250 (St. A. Lib. 33). Ballingry was probably a parish church by the fourteenth century (see below), but is first mentioned as such in 1424, when William of Ma[i]stertoun (probably Mastertown, Dunfermline) resigned as rector of the parish church of Ballingry in favour of his son (CSSR, ii 69). In March 1461 Henry Cockburn resigned the church of Ballingry on his appointment as Bishop of Ross. The supplication made to replace him by Robert Forrester (Forstar) states that either Cockburn's mother or father was the lay patron of the church (CSSR v no. 833).1 Later that same year (December 1461), however, Ballingry was described as being held by John Tyrie (em>Tyre) as a canonry and prebend of the Chapel Royal, which Cowan identifies as the Collegiate Church of St Mary n the Rock, St Andrews (1867, 12-13; CSSR v no. 881). The name of the parish occurs consistently as Ballingry, except in 1604, when it is called the parish of Inchgall, an alternative name for the barony of West Lochoreshire (em>RMS vii no. 1, RMS vii no. 1405), which was co-extensive with Ballingry parish.
BALLINGRY[Ballingry parish],Parish Settlement; National Grid Ref NT174976 (accurate); OS Pathfinder 384; 125m elevation East Facing.

Ester Balingre 1388 ER iii, 165 ['et de 5s. per redditum assise de Ester Balingre']
Richard[us] de Ballingry 1395 St A. Lib. 3
terra de Balhyngry c. 1400 St A. Lib. 1
terra ecclesiastica de Balhyngry c. 1400 St A. Lib. 1
(William de Ma[i]stertoun rector of the parish church of) Balyngry 1424 CSSR ii 69
(parish church of) Balhynggram 1461 CSSR v no. 833
(John Tyre rector the parish church of) Balingre1475 Midl. Chrs. (Holy Trinity) no. 3
Ballingre 1477 RMS ii no. 1335 [to Wardlaw of Torry]
Ballingry 1531 RMS iii no. 1004
ecclesi[a] de Ballingorie 1536 x 1546 RMS iv no. 3
Ballingrie 1616 RMS vii no. 1405 [part of the lands of West Lochoreshire]
Ballingrie 1616 RMS vii no. 1405 [advowson of the rectory and vicarage of Ballingry]
Ballingrie 1642 Retours (Fife) no. 619
Ballingary 1642 Gordon MS Fife
Bennigere 1654 Blaeu (Pont) West Fife
Balingzy K 1654 Blaeu (Gordon) Fife
Ballmyris 1656 RMS x no. 556 [the result of a serious transcription error]
Bingary 1753 Roy sheet 17, 5
Ballingry 1775 Ainslie/Fife
Ballingry Kirk 1775 Ainslie/Fife
Ballingrie 1786 Sasines no. 1389 ['patronage of the Parish Kirk of Ballingrie']

Scottish Gaelic baile + possible Scottish Gaelic iongrach
Sources:
ER The Exchequer Rolls of Scotland, ed. J. Stuart & others 1878-1908 (Edinburgh).
St A. Lib. Liber Cartarum Prioratus Sancti Andree in Scotia, Bannatyne Club 1841.
CSSR ii Calendar of Scottish Supplications to Rome 1422-1428, vol. 2, SHS.
CSSR v Calendar of Scottish Supplications to Rome 1447-1471, vol. 5, edd. J. Kirk, R. Tanner & A.I. Dunlop (Glasgow 1997).
Midl. Chrs. Charters of the Hospital of Soltre, of Trinity College, Edinburgh, and other Collegiate Churches in Midlothian, Bannatyne Club 1861.
RMS Registrum Magni Sigilli Regum Scottorum ed. J.M. Thomson & others, Edinburgh 1882-1914.
Retours Inquisitionum ad Capellam Domini Regis Retornatarum, quae in publicis archivis Scotiae adhuc servantur, Abbreviatio, ed. T. Thomson (3 vols., 1811-16) vol. 1 Fife and Kinross.
Gordon MS Fife Fyfe Shire MDCXLII - Fife Provincia Noviter Delineata, James Gordon, 1642, NLS (National Library of Scotland). Adv.MS.70.2.10.
Blaeu (Pont) West Fife 'Fifae Pars Occidentalis, The West Part of Fife', Timothy Pont's map of West Fife compiled in the 1590's with minor additions made by Robert or James Gordon, printed in Blaeu 1654.
Blaeu (Gordon) Fife 'Fifae Vicecomitatus, The Sherifdome of Fyfe', James Gordon's map of Fife, completed in 1645, and printed in Blaeu 1654.
Roy 1753 The Military Survey of Scotland, supervised by General William Roy, the 'fair copy', BM. Ref. K. Top XLVIII 25-1b, c; photocopies available in National Library of Scotland (NLS)Edinburgh University, Royal Scottish Geographical Society.
Ainslie/Fife Map of the Counties of Fife and Kinross compiled and engraved by John Ainslie 1775.
Sasines Register of Sasines, Register House, Edinburgh.
The Place-Names of Fife
Volume One. West Fife between Leven And Forth
Simon Taylor with Gilbert Markus.
Shaun Tyas, Donington, 2006
p 133; pp 137-9
Reproduced with permission of the author. Links to maps by permission of National Library of Scotland.